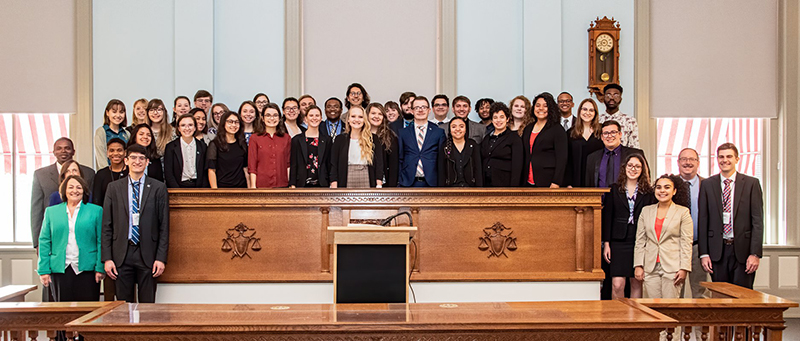 2020 Collegiate Advocacy Day at the Capitol
Florida Seal of Fine Arts Legislation Filed
Exciting news! FMEA has worked to successfully draft and facilitate the filing of Senate Bill 1100, the Florida Seal of Fine Arts Program bill, by Florida state Senator Darryl Rouson, and it's companion bill in the house, House Bill 1123 by Rep. Ben Diamond.
This legislation would recognize high school graduates who have attained a high level of skill in fine arts coursework with a seal on their diploma. Both bills require completion of three (3) full credits in sequential fine arts courses as well as one (1) additional full-credit course in the same or a different art form, completion of two fine arts-related extracurricular activities, a grade of "B" or better in each relevant course in order for the course to count toward the Seal of Fine Arts, and at least 20 hours of arts-related community service and presenting a comprehensive presentation on their experiences.
Government Relations/Advocacy Chair Jeanne Reynolds has written about it in her November Florida Music Director article about the legislation, and you can read the Senate bill language here. We will keep you posted and will be calling on our members to help advocate for the passage of the Senate and House versions of the legislation during the January-March Legislative Session.
FMEA Wins NAfME Excellence in Advocacy Award
The National Association for Music Education (NAfME) has awarded FMEA the 2019 Excellence in Advocacy Award in recognition of their efforts advocating for music education. FMEA President Dr. Steven Kelly, Executive Director Dr. Kathleen D. Sanz, Immediate Past-President Dr. Kenneth Williams, President-Elect Dr. Shelby Chipman, Past President Dr. John Southall, Government Relations/Advocacy Chair Jeanne Reynolds, and FMEA Collegiates accepted the award during NAfME's June 19 Hill Day activities.
Fine-Arts-Related Instruction's Influence on Academic Success
A Comparison of Cohort Data from 2007-2008 to 2010-2011 and 2013-2014