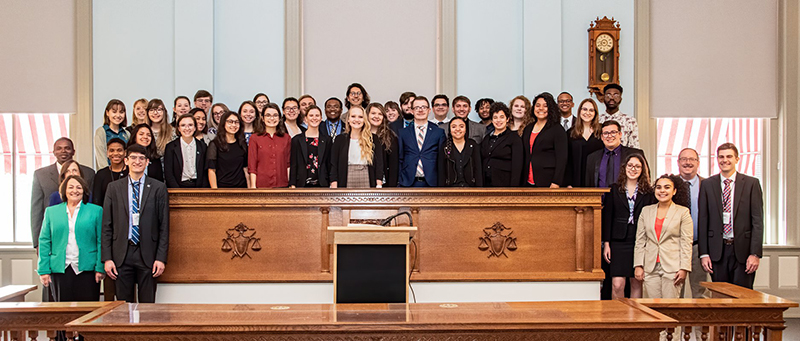 2020 Collegiate Advocacy Day at the Capitol
Florida Seal of Fine Arts Legislation Filed for 2021
Exciting news! FMEA has once again facilitated the drafting and filing of the Florida Seal of Fine Arts Program legislation, Senate Bill 1740 by Florida State Senator Darryl Rouson, and its identical companion bill in the house, House Bill 1375  by Representative Ben Diamond.
This legislation would recognize high school graduates who have met exemplary benchmarks in fine arts coursework with a seal on their diploma. Both bills require completion of three (3) year-long courses in sequential fine arts courses with a grade of "A" in each course. The legislation also requires meeting at least two of the following five requirements:
Successfully complete a fine arts International Baccalaureate, Advanced Placement, Dual Enrollment, or honors course in the subjects listed in paragraph (a) with a grade of "B" or higher.
Participate in a district or statewide organization juried event as a selected student participant for two or more years.
Record at least 25 volunteer hours of arts-related community service in his or her community and present a comprehensive presentation on his or her experiences.
Meet the requirements of a portfolio-based program identifying the student as an exemplary practitioner of the fine arts.
Receive district, state, or national recognition for the creation and submission of an original work of art or performance. For purposes of this paragraph, the term "work of art" means a musical or theatrical composition, visual art work,  or choreographed routine or performance
We will keep you posted and will be calling on our members to help advocate for the passage of the Senate and House versions of the legislation during the March-April 2021 Legislative Session.
FMEA Wins NAfME Excellence in Advocacy Award
The National Association for Music Education (NAfME) has awarded FMEA the 2019 Excellence in Advocacy Award in recognition of their efforts advocating for music education. FMEA President Dr. Steven Kelly, Executive Director Dr. Kathleen D. Sanz, Immediate Past-President Dr. Kenneth Williams, President-Elect Dr. Shelby Chipman, Past President Dr. John Southall, Government Relations/Advocacy Chair Jeanne Reynolds, and FMEA Collegiates accepted the award during NAfME's June 19 Hill Day activities.
Fine-Arts-Related Instruction's Influence on Academic Success
A Comparison of Cohort Data from 2007-2008 to 2010-2011 and 2013-2014
2013-2014 Cohort Study
2018-2019 Cohort Study