Skip Navigation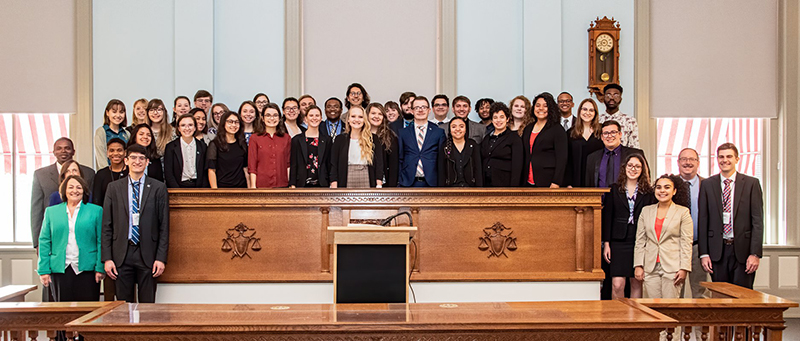 2020 Collegiate Advocacy Day at the Capitol
Music education is deeply personal to me. I have always wanted to play musical instruments. When I was in third grade, I desperately wanted to play the drums. I was told that I had to earn the right to learn this musical instrument by increasing my academic levels. There is no doubt in my mind that countless other children have been told the same thing. I proved my gatekeepers wrong. My ability to read and my number sense dramatically improved alongside my passion and love of learning music. I could visualize half, quarter, eighth and sixteenth notes and was quickly able to translate that into mathematical concepts in the classroom, putting me well ahead of many of my classmates.
I truly believe that music education enhances and supports academic growth and performance. This is why I have been such a vocal advocate for visual and performing arts as critical components to a high-quality education.
--Dr. Michael Grego, Superintendent (Retired), Pinellas County Schools
2022 Florida Legislative Session Recap
Financial Literacy – Senate Bill 1054. A financial literacy bill finally passed. Similar versions of this bill have been filed for more than seven years. FMEA has always supported the idea of financial literacy in concept. What we have objected to is the loss of an elective and the requirement of an additional course in financial literacy. We championed embedding these concepts in an already required course such as economics, a solution that is working well in many other states. Additionally, we suggested alternative options for students to demonstrate mastery of the content without the loss of an elective. Unfortunately, these options were not considered. We were successful in keeping the bill from passing in its current form in prior years. This year, the bill had overwhelming bipartisan support, which is most unusual. Given this strong bipartisan support (from the most conservative Republican to the most progressive Democrat), we believed the best option we had was to advocate for delaying the implementation of the bill. Fortunately, we were successful in getting this delay written into the bill. The financial literacy requirement will apply only to the incoming ninth-grade students beginning with the 2023-24 school year. Other organizations, such as the Florida Association of District School Superintendents share our concerns about the loss of an elective and the difficulty of fitting this semester-long course into master schedules. With this extra year to plan, we will work to generate creative scheduling solutions that minimize the loss of the elective.
Seal of Fine Arts – SB 318. We owe another debt of gratitude to our sponsor, Senator Darryl Rouson, who has championed this bill in the Senate the last three years. Unfortunately, we were unable to make any headway in the House. We had a longshot hope that we could get this bill amended onto some type of education "train" bill at the end of the session, but that opportunity did not present itself. There were other controversial bills that garnered much attention at the end of the session, which limited those chances. We will continue to advocate for this bill in future years. It is important not to become discouraged. It often takes years to get a popular bill passed, as was mentioned in the case of the financial literacy bill. We will continue to advocate for the Seal of Fine Arts bill and for greater access to arts education and recognition for high-achieving students in the arts.
Cultural Funding – FMEA and FSMA Grant Funding. Some of the best news from this legislative session is that the Florida Division of Arts and Cultural Grants request was approved by the House, Senate, and Governor at 100%. This is most unusual. FMEA and FSMA both receive funding from these grant requests. 
Education Funding. Funding for public schools is up nearly 5% due to strong tax revenues and federal funding. This is another bright spot from this year's session.
Bill Summary. This link will take you to a summary of all bills passed in 2022. Scroll through to see various topics, including education: flsenate.gov/Committees/BillSummaries/2022
Additionally, check the FMEA website in late May for a more complete analysis of the 2022 Legislative Session, including further analysis of education bills.
FMEA Wins NAfME Excellence in Advocacy Award
The National Association for Music Education (NAfME) has awarded FMEA the 2019 Excellence in Advocacy Award in recognition of their efforts advocating for music education. FMEA President Dr. Steven Kelly, Executive Director Dr. Kathleen D. Sanz, Immediate Past-President Dr. Kenneth Williams, President-Elect Dr. Shelby Chipman, Past President Dr. John Southall, Government Relations/Advocacy Chair Jeanne Reynolds, and FMEA Collegiates accepted the award during NAfME's June 19 Hill Day activities.
Fine-Arts-Related Instruction's Influence on Academic Success
A Comparison of Cohort Data from 2007-2008 to 2010-2011 and 2013-2014
2013-2014 Cohort Study
2018-2019 Cohort Study
---
© 2022 Florida Music Education Association • 402 Office Plz Tallahassee FL 32301
1-800-301-FMEA(3632)
• Fax: (850) 942-1793