Membership Renewal is Now Open for 2019-2020! Membership must be current by September 1 for your students to be eligible for all-state auditions.
FMEA Receives Excellence in Advocacy Award

The National Association for Music Education (NAfME) has awarded FMEA the 2019 Excellence in Advocacy Award in recognition of their efforts advocating for music education. FMEA President Dr. Steven Kelly, Executive Director Dr. Kathleen D. Sanz, Immediate Past-President Dr. Kenneth Williams, President-Elect Dr. Shelby Chipman, Past President Dr. John Southall, Government Relations/Advocacy Chair Jeanne Reynolds, and FMEA Collegiates accepted the award during NAfME's June 19 Hill Day activities.
Music Teacher named Florida Teacher of the Year

Congratulations to FMEA member Dr. Dakeyan Chá Dré Graham on being named the 2020 Florida Teacher of the Year! Dr. Graham is the director of instrumental music at C. Leon King High School in Tampa.
Call for Research Posters

You are invited to submit proposals for the Research Poster Session at the 2020 FMEA Professional Development conference, in which you may share new, unpublished research in music education.
Job Bank

The FMEA Job Bank is a free service to Florida schools and teachers who would like to teach in Florida. If your school has a music vacancy that you would like posted, please click the link below to complete the job vacancy form. Jobs listed here will automatically be deleted after 90 days, however you will receive an e-mail confirmation that includes a link to extend, edit, or remove your job posting.
All-State Audition Requirements 2019-2020

Audition requirements for the FMEA Guitar Ensemble are now posted on the Guitar page.

Elementary Chorus, Orff, Band, Orchestra, and Chorus audition material is (or will be soon) posted on the appropriate component organization websites.
Parent Advocates Needed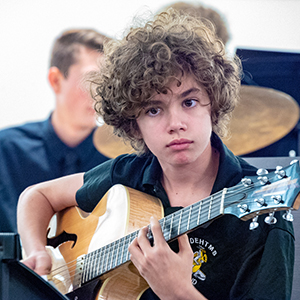 FMEA invites parents, guardians, and grandparents of Florida students who take music classes to register as music parent advocates. FMEA will engage with registered advocates about legislation and related issues that impact music education in Florida.
ESE Course for Music Educators
FMEA, The Florida DOE, The Florida Center for Interactive Media (FCIM) and the Division of Cultural Affairs collaborated to develop an ESE course for music educators. Dr. Alice-Ann Darrow developed the music content for the course. It is designed to provide music educators with introductory information about the foundations of exceptional student education and provision of services in Florida, as well as appropriate instructional strategies for teaching students with disabilities. Each school district is responsible to determine if the content of this 20-hour course satisfies the requirement for Renewal Credit in Teaching Students with Disabilities (DPS 2014-12).
Exhibitors - Reserve for the 2020 Conference

Reserve now to Exhibit at the 2020 FMEA Professional Development Conference, January 8-11, 2020
Advocacy

Visit our Advocacy page for new resources to print out and distribute regarding the benefits of arts participation based on findings in our latest cohort study.
Office Hours:
Monday - Friday
8:00 a.m. - 4:30 p.m.
---