Skip Navigation
Conference Hotels
FMEA has contracted with several Tampa hotels to provide you with the best rates possible. 

Hotel Policies
A maximum of five (5) guest rooms per teacher or parent for a reservation. Each and all rooms reserved on Nov. 13, 2023, will be charged a non-refundable, one-night fee to the credit card used to secure the reservation. Invalid credit cards risk reservation cancellation.
Directors should try to reserve rooms for all-state students and chaperones in the hotel they are rehearsing. Rehearsal Locations and Tentative Schedule
FMEA IS NOT offering a housing bureau service. All participants MUST call the hotels directly or use the special online links that will be listed below beginning Sept. 30, 2023, at 9 am EDT.  If calling, be sure to request the "Florida Music Education Association" room block rate and confirm the guest room rate posted below. 
If paying by check, a check for the full amount must be mailed directly to the hotel no later than December 15.  
Cancellation Deadline
We urge any guest holding surplus reservations/rooms to cancel the excess reservation(s) as soon as possible and no later than 5 p.m. on November 11, 2023, and you must secure a cancellation confirmation number. This courtesy will make surplus rooms available to other FMEA members and conference attendees.
If Hotels Are Full
Every year, the hotel blocks fill up almost immediately upon the opening date and time due to teachers overestimating how many they will need for all-state students and chaperones. They cancel the rooms they don't need after audition results are released.  
Try again in late October or early November after all-state results are released and teachers cancel rooms for students who didn't make it. 
Try again after the November 11 cancelation deadline. All canceled rooms will return to the FMEA blocks until December 15.  
Please Do Not reserve a room outside of the FMEA blocks!  To receive discounts for the ballrooms we use for all-state rehearsals, we must fill most of our allotted room blocks. If we do not meet our required minimum number of hotel nights sold, we will need to raise conference registration rates to compensate for the added cost of the rehearsal space. 
New: Online Ordering
Many of our conference hotels (but not all of them) will be accepting reservations online for the first time this year. The links to get our special conference rates will be posted here on September 30 at 9:00 a.m. Eastern.  This is a pilot program for the 2024 conference and we hope to have all hotels on board for the 2025 conference.  
You do not need to register for the conference before reserving your hotel rooms, but this is something that we are considering for future conferences.
Hotel List
Frequently Asked Questions (FAQ)
Why are the FMEA Hotels so expensive?
The prices we contract with the hotels are much lower than their standard room rates during the same dates.  In many cases, it is less than half their normal rates. 
Why is it so hard to get a room?
When the blocks first open, everyone tries to get as many rooms as they can in case they need them for all-state auditions, so they fill up very fast.  If you wait until after the all-state results come out, many people have canceled their rooms and it's much easier for everyone else to get a reservation. 
Why don't you wait and open the hotel block after all-state auditions are released?
Our hotel partners are uncomfortable waiting until we are so close to the start of the conference to book room reservations. 
I tried calling but it was busy or they put me on hold forever
We recommend trying again in early November after the all-state results are released.  Many people will cancel rooms they no longer need if their students aren't accepted. 
Is there a cancellation fee?
No, as long as you have canceled all the rooms you no longer need by the cancelation deadline listed, you will not be charged any type of cancelation fee. After the cancelation deadline, a deposit of one night per room in your reservation will be charged to your credit card, and that deposit is non-refundable. 
Someone at the hotel told me that canceled rooms don't go back into the FMEA block, and they are sold at full price instead. Is that true?
Only after December 15.  Before that date, all the hotel rooms in the FMEA blocks that are canceled will go back into the FMEA blocks and can be reserved by other FMEA members at the low FMEA rate. 
Why can't we book hotels online?
We are piloting this for some hotels for the 2024 Conference. It is a challenge because of the unique needs and policies that FMEA requires. As the hotels' online systems evolve, we are researching possibilities to interface with them or use third-party options for online hotel booking that are both affordable and compatible with the unique needs of the FMEA conference.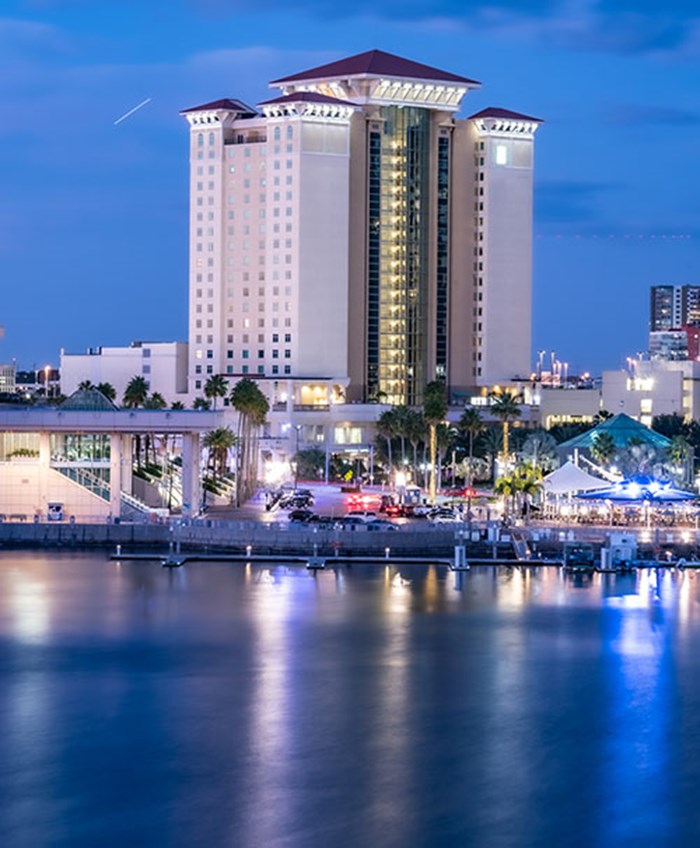 Important Dates
September 30, 9:00 a.m. - Reservations Open
November 11, 5:00 p.m. - Cancelation Deadline
November 13 - Credit Cards charged for one night deposit for each room still reserved
December 15 - All school lodging checks are due to hotels
December 15 - Unsold rooms in the FMEA blocks are released back to hotels.
---
© 2023 Florida Music Education Association • 402 Office Plz Tallahassee FL 32301
1-800-301-FMEA(3632)
• Fax: (850) 942-1793