Skip Navigation

Thank you for presenting a session at the upcoming FMEA conference in January, we are very grateful for your willingness to share your knowledge with other music teachers in Florida. We encourage you to review the information you agreed to on the Proposals Page when you submitted your session proposal, and become familiar with our Policies. 
Conference Registration is Required
Please note all session presenters are required to maintain current FMEA membership (or NAfME membership if living outside of Florida) and register for the conference. Conference pre-registration is open from early September through December 11, and regular online registration will be available at a slightly higher cost after that date.


Demonstration Ensemble Student Badges:
If you are using a demonstration group, the students and chaperones must be registered as part of their director's conference pre-registration no later than December 8. Click here for instructions.
Session Details Database Links:
You should have received an email with links to see when each session is scheduled, edit the information about your session(s) for our conference program, and submit an Equipment Request list. 

For each session you are presenting, please do the following by October 1:
Click the Session Title link in the email you received.
Login with your FMEA login information.
(If you are from outside of Florida you should have setup an FMEA login when you submitted your proposal, but if you have any trouble logging in please email

 

Josh@FMEA.org

 

if the "Forgot Password" page doesn't work.)
Note the date, time, and room of your session. (Some rooms are still subject to change)
If you are using a

 

Demonstration Group, make sure the "Format" is set to "Demonstration."  The director/teacher of the demonstration group must be entered as a clinician on the "Clinicians" tab.
Click on the "Clinicians" tab at the top, and then click your name. Make any changes or fill in missing information to your clinician profile, including your picture if necessary. Click the "Save" button to save your changes.
Click the "Equipment Requests" tab and read the

 

instructions for requesting equipment,

 

to add additional A/V equipment you will need.
Please note that you will also see a "Handouts" tab where you can upload documents or add links, but this deadline does

 

not

 

apply to handouts. You may upload your handouts any time before your session. 
Equipment provided in all rooms (you do not need to request any of this equipment):
Podium with microphone
Head table with two chairs and one table-top microphone
Projection screen with a utility table in front of it.
1/8" mini-plug audio cable to hook up a laptop, phone, or audio player to the sound system
Please Note:
All other equipment needed should be requested online in the "Equipment Requests" tab of the session info page. If it's not an option online, it's not available.

 

(DEADLINE: Oct. 1)
FMEA does not provide computers, instruments (other than a piano), or music stands. We only provide the equipment that you can request on the Equipment Requests

 

tab. Anything not available there must be provided by the presenter. 
Projectors and Pianos will only be provided if they were requested online. We have a limited quantity and move them between sessions, so do not assume one will be there if not requested in advance.
Wifi Internet access will be available for purchase at the convention center for $12.95 a day. We are not able to provide free internet access to presenters except for the keynote speaker(s) at the general sessions.
NEW! Attendee Verification and Session Survey QR Code:
You should have received an email with a link to your session(s) details.  That page contains a QR code that we are asking all presenters to copy and paste into the last slide of their presentation.  This will allow attendees to add your session to their Session Attendance Verification Sheet which they can download after the conference and use for Professional Development points.  The same QR code will also allow them to fill out a short survey about the session.  
1. Click the Session Title link in the email you received and follow the instructions in that email for logging in. You should get to a page that looks like this: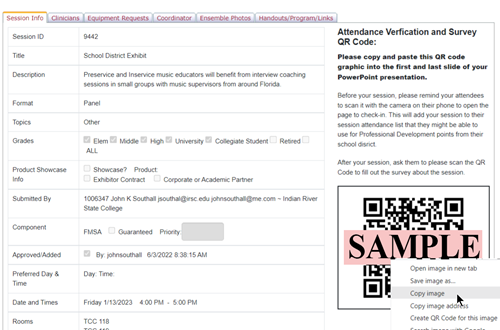 2. Right-click the QR Code and click Copy Image,
3. Open your slide presentation for that session (PowerPoint, Keynote, Google Slides, etc.)
4. Go to the last slide and Paste that image into the slide.  You can do this by pressing CTRL-V or CMD-V on your keyboard, or Right-Click and select "Paste" or "Paste Image."
5. Add text to the last slide that says something like "Scan Code to Complete the Session Survey and add this session to your Attendance Verification Report." 
At the end of your session, tell the audience to scan the code to add it to their Attendance Verification Report that they will be able to download after the conference, and ask them to please complete the survey at that QR Code as well.  
Each session's QR code is unique, so if you are presenting multiple sessions please be careful not to mix them up.  
Make sure it is big enough so everyone in the room can scan it with their phones. Here is a samples: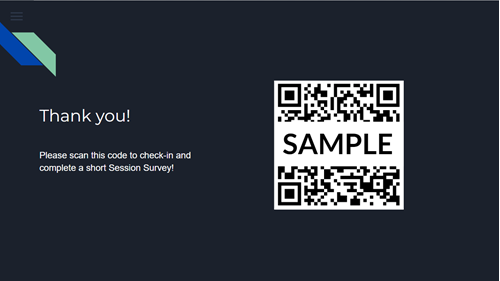 This is not optional, and it is very important so that every member who needs Professional Development Points will have a complete attendance list on their verification document. We will also include a sign with the QR Code in each session coordinator's packet, so if you are not using a projector or a PowerPoint presentation, please communicate with your session coordinator that they will need to display that sign for attendees to complete the check-in process. 
Keep It Private! This QR Code should only be displayed in the room after your session. Do not include it on handouts or any uploads you are providing to your attendees. 
Email josh@fmea.org if you have any questions or problems with this process.  
Handouts or Related Links:
Presenters will receive an email the week before the conference that will contain a link for uploading their handouts or adding links to other websites related to the session (the Oct. 1 deadline

 

does not apply

 

to handouts).
IMPORTANT: If you are uploading your Slide Presentation make sure that the file you upload does not contain that QR code described above. 
This will allow the handouts or links to be visible within the online conference schedule and FMEA Mobile App. Links will appear 5 minutes before the session begins.
FMEA does not provide printed copies of handouts. The presenter is welcome to bring their own printed copies if they would like to distribute them, but this is optional and you can ask your attendees to access them from the FMEA App or Online Schedule instead. Free WiFi will be provided in the Convention Center. 
How many copies? Session attendance varies from as few as 10 to over 300.  We recommend 100 as a starting point, more if you think the session will be more popular for the general attendee population, and fewer if you feel the session is targeted at a more focused audience. If you run out, you can always tell the remaining audience members to see it in the app or the online schedule. 
Thank You
If you have any questions about the conference schedule or logistics, please e-mail our conference planning chair, Dr. John Southall, at johnsouthall@FMEA.org. If you have technical questions about the website or links above, e-mail Josh Bula at josh@FMEA.org.

Thank you for taking care of this in a timely manner, we are greatly looking forward to your participation in our conference.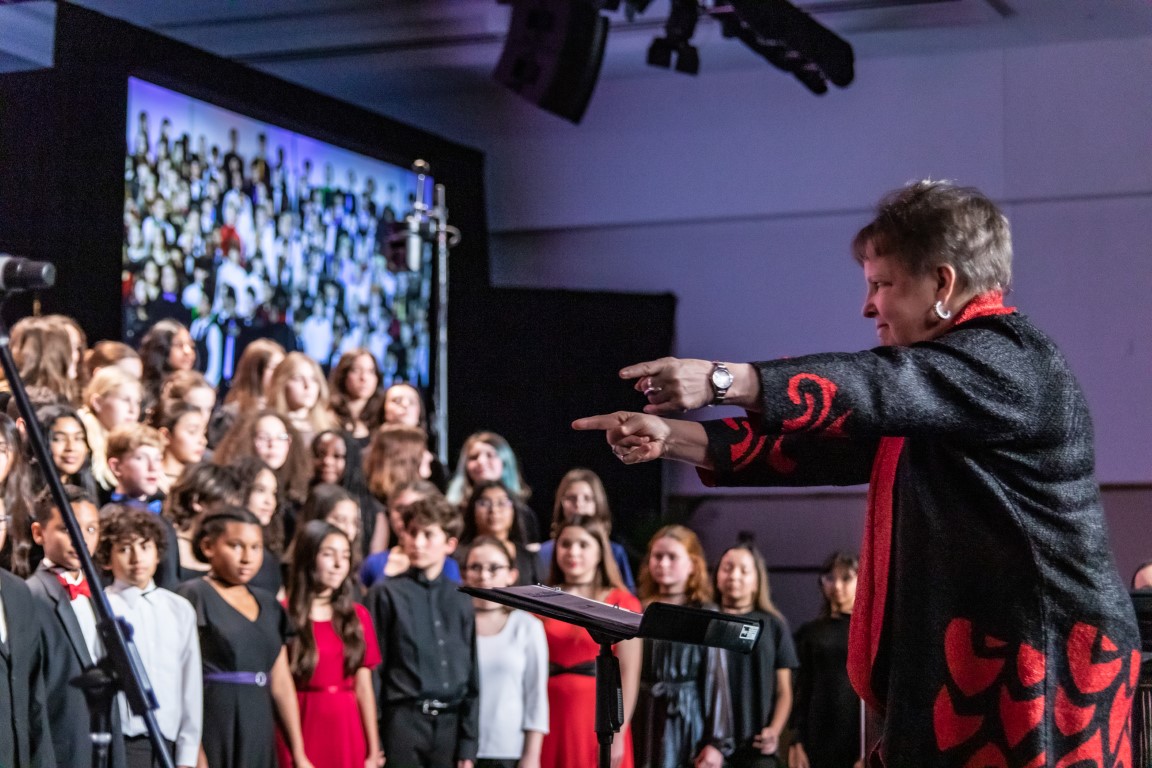 Slido - interact with your audience using live polls, Q&A, quizzes, and word clouds.  Free for up to 100 participants, integrates with PowerPoint, Google Slides, and more. 
Vevox.com - Live polling, Q&A, and Quizzes. Free for teachers with up to 100 participants. Integrates with PowerPoint.   
Mentimeter - Gain valuable insights from your audience with Word Clouds, Polls, and Quizzes. Create an interactive experience letting everyone vote, ask questions, and interact. Build an immediate connection with your audience and make them a part of your presentation.
---
© 2023 Florida Music Education Association • 402 Office Plz Tallahassee FL 32301
1-800-301-FMEA(3632)
• Fax: (850) 942-1793